I have made some cute sets of free printable Halloween bookmarks with ghosts, bats, monsters, spiders, haunted houses, Frankenstein, and more scary objects. These bookmarks can be given as gifts to friends and family. Little kids will love these cute bookmarks.
Spooky bookmarks with pumpkin and spider
Click on the image to download a template with 4 bookmarks in the same design. Print this on card stock paper and make adorable gifts for kids. Cute pumpkins and spiders give this a fun-filled look.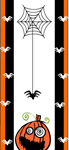 Free Printable Bookmarks with haunted house, tree, and moon
A traditional scary design of a haunted house, a scary tree, and a ware wolf in front of the moon make this bookmark chillingly adorable.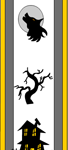 Naughty scary monsters and spiders Bookmarks
This is my personal favorite bookmark among the whole collection I have made. Some cute and mischievous colorful little monsters and spooky spiders make this design adorable.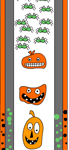 Free Printable Tombstone and Frankenstein Bookmarks
This is the creepiest free printable Halloween bookmark design.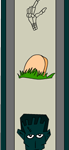 Black cat, scary skull, and a spooky mask Bookmarks
Nothing can be scarier than these symbols and I have combined all these together in this bookmark design. Perfect for Halloween celebrations.