I actually made these worksheets for my own daughter to help her developing fine motor skills but I am also sharing these with you so you can use these in your classrooms are give your child at home to practice hand writing skills. These are free printable alphabet worksheets which are suitable for preschool and kindergarten kids. I have made these worksheets with alphabets and providing all the worksheets from a-z and both upper case (Big ABC) and lower case (small ABC) worksheets.
Click on any of the alphabets link and full-size image will open. You can right click and save that image to your computers and print. Use browsers back button to return to this post.
Each worksheet also has a small image starting from the letter that is given for practice. Kids can enjoy coloring the pictures besides the tracing activity.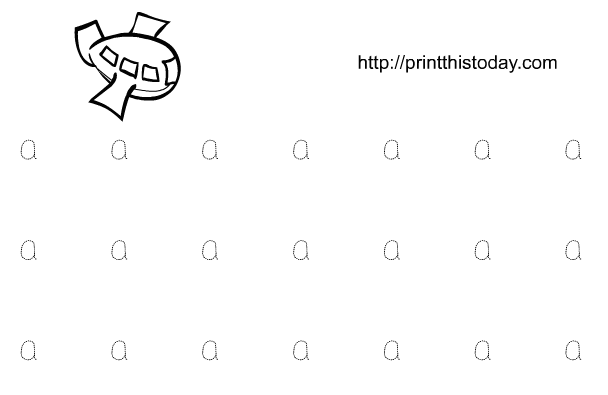 Alphabet tracing Worksheets in Lower Case (Small Letters)
These are a-z worksheets with small letters. Your kid can practice and refine his motor skills through these writing activities.
Alphabet a worksheet
Alphabet b worksheet
Alphabet c worksheet
Alphabet d worksheet
Alphabet e worksheet
Alphabet f worksheet
Alphabet g worksheet
Alphabet h worksheet
Alphabet i worksheet
Alphabet j worksheet
Alphabet k worksheet
Alphabet l worksheet
Alphabet m worksheet
Alphabet n worksheet
Alphabet o worksheet
Alphabet p worksheet
Alphabet q worksheet
Alphabet r worksheet
Alphabet s worksheet
Alphabet t worksheet
Alphabet u worksheet
Alphabet v worksheet
Alphabet w worksheet
Alphabet x worksheet
Alphabet y worksheet
Alphabet z worksheet
Alphabet tracing Worksheets in Upper Case (Capital Letters)
Here are all the Upper case or Capital letters alphabet worksheets from A-Z .
Letter A tracing worksheet
Letter B tracing worksheet
Letter C tracing worksheet
Letter D tracing worksheet
Letter E tracing worksheet
Letter F tracing worksheet
Letter G tracing worksheet
Letter H tracing worksheet
Letter I tracing worksheet
Letter J tracing worksheet
Letter K tracing worksheet
Letter L tracing worksheet
Letter M tracing worksheet
Letter N tracing worksheet
Letter O tracing worksheet
Letter P tracing worksheet
Letter Q tracing worksheet
Letter R tracing worksheet
Letter S tracing worksheet
Letter T tracing worksheet
Letter U tracing worksheet
Letter V tracing worksheet
Letter W tracing worksheet
Letter X tracing worksheet
Letter Y tracing worksheet
Letter Z tracing worksheet