On this page you'll find a collection of cute free Printable Halloween labels with black cats , monsters, ghosts , spiders, bats and many other scary objects . Click on the image to download a template with 8 free printable labels . You can use these labels in your craft projects or paste on kitchen jars and bottles to label the ingredients . These are great to label the books of your kids . Use these in anyway you like.
Spooky black cat and Mask
A set of eight cute free printable Halloween coloring pages with a spooky black cat and a scary mask . It has an orange background that makes it perfect to use in any Halloween craft work. Paste these cute little labels on kitchen jars and bottles and give your kitchen items a spooky new look.

Red monster and spiders
Free printable labels with cute red monster and lots of cute green spiders . These labels have a white background so you can write on these with any color that you may like .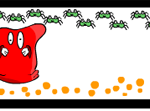 Cute colorful monsters
A bright and funky labels design with some cute and colorful monster faces . Use these to label the gift for your kids or their books . I am sure they will love it.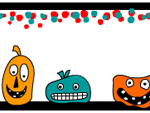 Haunted house
A traditional Halloween design of a haunted house with a tree can give scary look and feel to anything you want.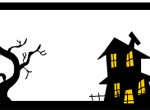 Frightful Pumpkin
A cute and silly pumpkin face with bright yellow spiders will bring a frightful smile on anyone's face . Download this template for free . Please read terms of use before using any of these printables.