You can have a Sports themed Baby Shower Party for baby boy as well as for baby girl. I have made some cute, adorable and free printable baby shower favor tags to help you with party arrangements. You can use these tags even on sports themed birthday party and in your sports related craft projects. You can tie these tags in necks of kitchen jars and bottles and can also used as place tags for your party guests. These tags are for personal use only and please read terms of use before using these tags.
All Stars Sports (Blue)
These are some very adorable favor tags that you can use on baby shower party and as well as on birthday parties. These tags have balls related to sports and stars in the back ground. By printing each template, you can get 12 adorable tags that you can use to decorate your baby shower favors.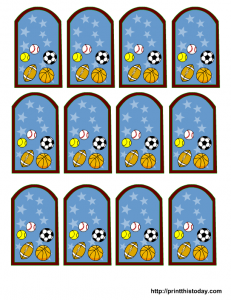 All Stars Sports (Pink)
You can also have a sports themed baby shower or birthday party for a baby girl. I have made the same tags as above with pink background to meet your needs. If you want to see any other printables, you can write to me and ask me to upload those for you here.