Decorate your Christmas gift with these adorable Free Printable Snowman Christmas Gift Tags. You can click on any of the sets of tags that you like to get the bigger image that you can print. Cute the tags around the edges and tie these with a ribbon or string with your gifts. You can also use these tags in many creative ways in your Christmas crafts projects and also tie these in necks of jars and bottles in your kitchens to give it a feel filled with holiday spirit.
Free Printable Snowman Christmas Gift Tags
This is an adorable set of Christmas Snowman Gift tags. Each set contains 12 tags of the same design, shape, and size. In this set of tags, there is an adorable snowman that is holding gifts in its hands, wearing a hand and has a lovely smile on its charming face. These tags will add to the joy and colors of your Christmas gifts.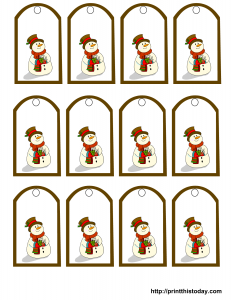 Adorable Snowman Christmas Gift Tags
This set of Free Printable Snowman Christmas Gift Tags shows a smiling snowman. These tags have a beautiful orange border and the white background color makes these printer-friendly.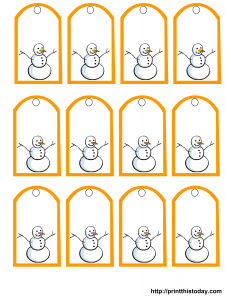 Snowman and Snow-woman printable Christmas gift tags
Here is another set of free printable tags with a smiling snowman wearing a colorful scarf and a happy snow-woman. This snowman couple will add fun and charm to your Christmas crafts and decorations.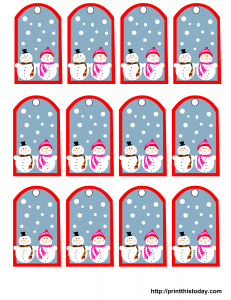 You can find more Christmas related printables on https://christmas-printables.com