This is a collection of 24 cute and sweet picture love quotes that you can either print or share on any social media website such as Facebook or Pinterest. These sayings about love are carefully collected and designed beautifully with cute images. Share these on the wall of your sweetheart or print it for him/her.
1. Free Printable Picture with Love Quote
I'd like to run away from you but if you didn't come and find me … I'd die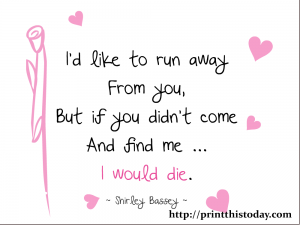 2. Cute Love Quote Picture
If I tell you I love you, Can I keep you forever?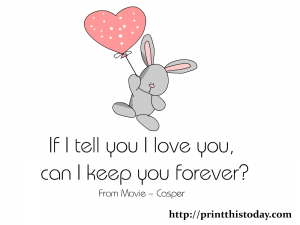 3. Cute Teddy bears picture with Love Quote
Love is a dream that comes alive when we meet.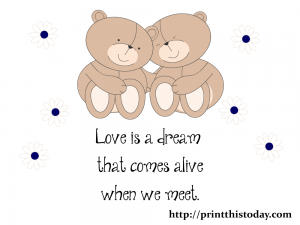 4. Free Printable Crazy Love, Cute and meaningful Love Quote
Don't say you love me unless you really mean it, because I might do something crazy like believe it.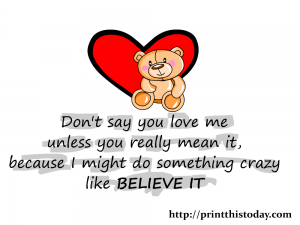 5. Cute picture with Romantic Love quote
If every time I thought of you a star fell… well the sky would be empty.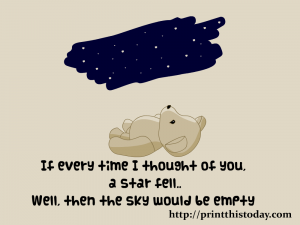 6. Love and Friendship Quote Picture
Friendship often ends in love, but love in friendship – never

7. Love and Marriage Quote Picture
A successful marriage requires falling in love many times, always with the same person.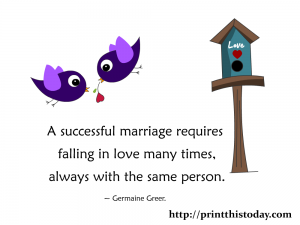 8. Printable Picture Quote about good Marriage
There is no more lovely, friendly and charming relationship, communion and company than a good marriage.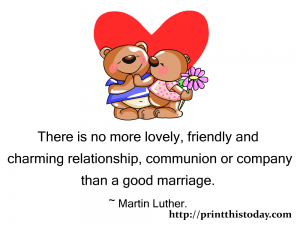 9. Picture Quote about true love
True love is knowing a person's faults and loving them even more for them.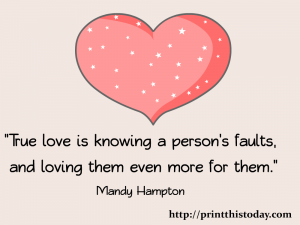 10. Free Printable Picture Quote about Love
Never try to define love. Once defined, love is confined. Once confined– it dies.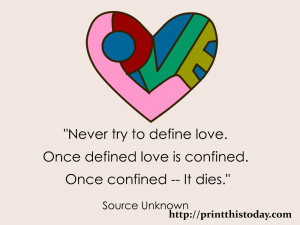 11. Adorable Love Quote
when we meet someone whose weirdness is compatible with ours, we join up with them and fall into a mutual weirdness—and call it love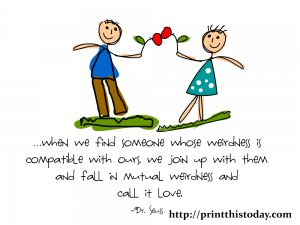 12. Love Quote Picture
We were two and had but one heart between us.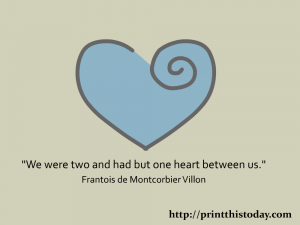 13. Free Love Quote picture that you can Share
Love makes the wildest spirit tame and the tamest spirit wild.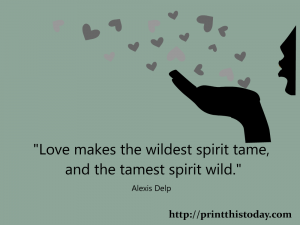 14. Cute love quote Picture with Teddy Bears
Anyone can be passionate but it takes real lovers to be silly.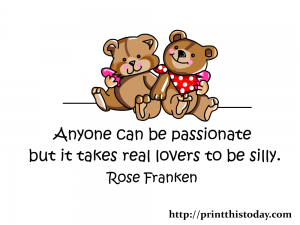 15. Free Picture with Love Quote
Just because someone doesn't love you the way you want them to, does't mean they don't love you with all they have.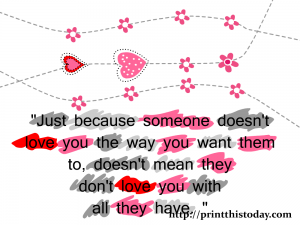 16. Love Quote by Marilyn Monroe
I'm selfish, impatient and a little insecure. I make mistakes, I am out of control and at times hard to handle. But if you can't handle me at my worst, then you sure as hell don't deserve me at my best.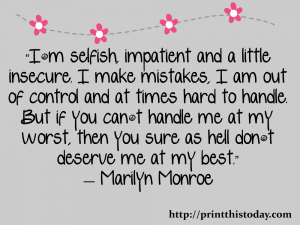 17. Cute Love Quote Picture
You know you are in love when you can't fall asleep because reality is finally better than your dreams.

18. Cute Picture Quote about Friendship
A friend is someone who knows all about you and still loves you.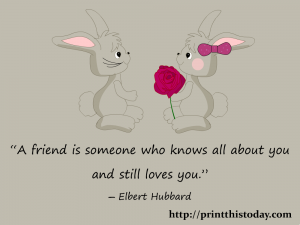 19. Free Printable Picture Love Quote
It is better to be hated for what you are than loved for what you are not.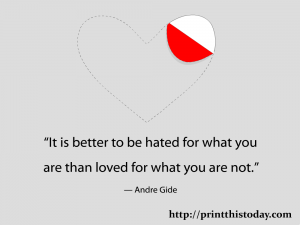 20. Picture Love Quote
If you judge people you have no time to love them.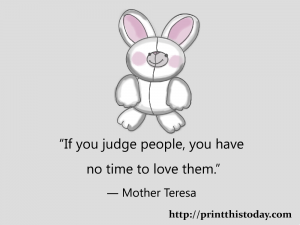 21. Meaningful Love Quote Graphic
"I am good but I'm not an angel, I do sin but I'm not the devil, I have friends but I'm not a peacemaker, I am pretty but I'm not beautiful. For I am only a little girl in a big world looking for someone to love."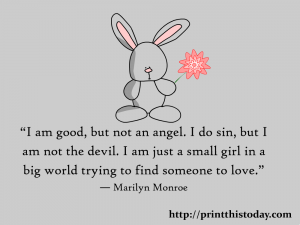 22. Cute Love Quote Picture
"Love is needing someone. Love is putting up with someone's bad qualities because they somehow complete you."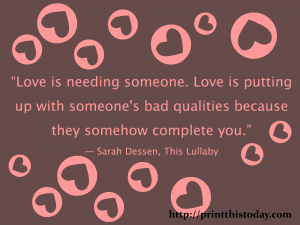 23. You are my Best friend Quote
You are my best friend as well as my lover, and I do not know which side of you I enjoy the most. I treasure each side, just as I have treasured our life together.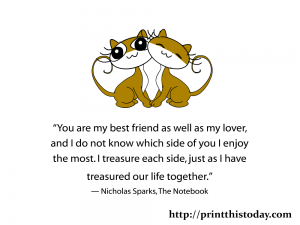 24. The best relationship Free Printable Quotation
The best relationship is when you can lay with each other and just talk about anything and everything.