If you are looking for Christmas favor Ideas then this is the right place where you can find help. I have made these cute free printable Christmas Pencil Toppers that you can cut and paste on any pencils and pens to decorate them. Each set of pencil toppers printable has three different and cute designs.
After printing the template, cut these around the thick lines, fold from the dashed lines, make small cuts on the dotted lines and paste it with glue on the top of any pencil and pen that you want to decorate.
You can also tie a ribbon at the end of the topper to make it look more beautiful.
Free Pencil Toppers Printables
In this first set of Christmas toppers papercraft printables, you can download a Christmas tree, Gingerbread man, and a cute snowman. Click on any of the images below, right-click and save the bigger image on your computer.

This is another set with a cute penguin in a Christmas cap, a Santa Claus, and a cute Frog.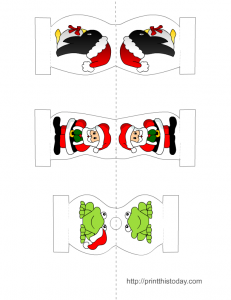 Another adorable set of Christmas Pencil toppers with Elf, Bird, and colorful stockings.