Baby Shower Games are the best part of the baby shower party and add fun and joy to this event. Here are some free printable games that I have designed to add more fun to your baby shower party. Get introduction from every one before starting playing games. Make small and cute prizes for game winners like scented candles, homemade lotions and oils etc.
You can also visit my website http://games-for-baby-shower.com to get free printable baby shower games in various colors. Also http://themes-for-baby-shower.com to get some nice themed baby shower games.
Free Printable Baby Shower Bingo Game
One of the classic and most popular baby shower games. We are offering this very cute printable version that you can print and play easily. Download the zip files by clicking the image below . Unzip the files and print these according to the number of guests you have. Print one as master copy.Cut up your master copy with scissors into the squares . Put these squares into a hat (or diaper bag) and mom to be should draw these one at a time and read the word on the square. The guests should find the word and place a game piece over it. This continues until someone fills in a row (vertically, horizontally or diagonally) and yells "BINGO!".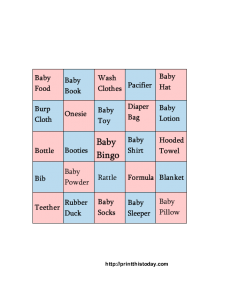 Baby Shower Word Search Game
Another very popular baby shower game printable . This classic word search game has words related to baby and maternity. Give each of your guests one printed copy and whoever finds all the words first shall win the game.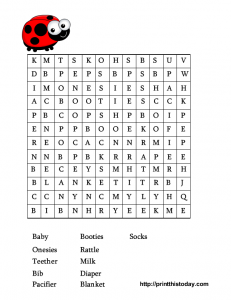 Tell the name of the baby of an animal
A very cute and interesting game. Click on the image below and save the larger copy to your computer. Take print out according to the number of your party guests. Each guest should write the name of the baby animal in front of the animal name. Whoever gets the most correct answers will win . Click here to download the solution to this game.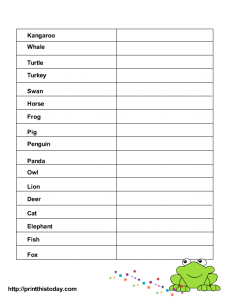 Baby Shower Word Scramble Game
This is a classic game free printable with a cute sleeping baby on it . It has a list of scrambled words related to baby. Give each guest a print out and pens and they should unscramble each word and write it in space next to it. The one who unscrambles all the words first will win. Click here to download the solution to this game.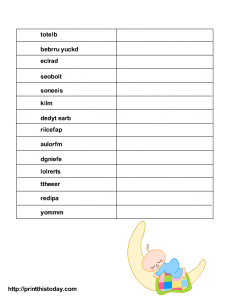 Name the Baby Shower items Game
Another very interesting game for your baby shower party. Give this cute stationery with a pea-pod baby to your guests and ask them to write down the names of as many baby related items as they can. One who will name most number of items will win.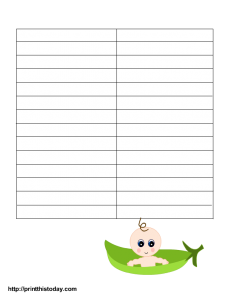 Baby Shower Memory Game
Place baby related items like bib , feeder , teether in a trey and cover it with a cloth. Remove the cloth to uncover the items for a while and then ask your guests to write down the names of the items on this cute free stationery paper . The guest with most correct names will win.