Making your child learn all the numbers and alphabets is not an easy task. Keeping your preschool or kindergarten age child's interest in these learning activity is also very difficult. To help you with this I have made some numbers worksheets and tried to keep them fun and interesting so your child will learn to count, trace and color in fun and easy way. On this page you will find free printable math worksheets with number 1. Number 1 is easy to write and I hope your kid(s) will enjoy learning it through these worksheets.
Trace and Color Number 1
Your kid can color number one and can also trace this number. I have made these worksheets specially for preschool and kindergarten kids. They can easily trace the numbers with help of a crayon.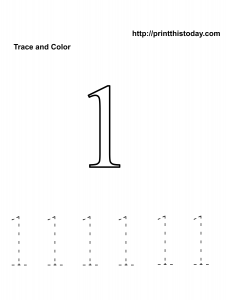 Count trace and color 1 object
On this free math worksheet I have made one object that is a fish and also made number one tracer. Your kid can learn counting the object and can trace the number. This worksheet is again made for preschool or kindergarten kids with bigger object and bigger tracer so they can trace it easily with a crayon.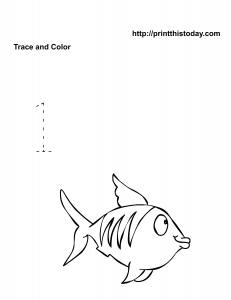 Number 1 flashcards
Reinforce the shape of number one with these adorable flashcards. One flash card has number one written in orange color and a colorful fish and other one show one gift box.