Whether you are using a Happy Planner, an Erin Condren Life Planner, Plum Paper Planner or any other planner to stay organised and focused towards your daily and weekly goals these 20 Free Printable Planner Stickers Websites and Groups will be helpful for you. I have collected 20 different sources from where you can get absolutely free printable functional stickers, decorative stickers and even washi tapes for you planners. This collection of website is in random order and these websites apart from cutedaisy.com are not affiliated or associated in any way with printthistoday.com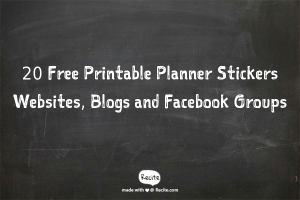 On this website you will find very cute free printable planner stickers. These stickers are in downloadable PDF format and stickers are mostly make in two different sizes, one is for Happy Planner and other is for Erin Condren Life Planner (ECLP). You will find stickers for planner boxes, cute functional stickers and many adorable washi tapes on this website.
2. Myplannerenvy
This is a site filled with planner printables, tutorials and tips and tricks. If you like elegant printables for your planner, this is the place for you. The owner of this blog has also created files for two different planners and you will not only find PDF files but also Studio 3 files with cutlines for Silhouette Cutting Machine.
This is also a great source of free printable planner stickers. You will also find many other printable freebies on this website such as gift tags and party printables along with many interesting craft related tutorials.
This is another one of my most favorite source of getting free printable stickers for planner. You need admin's permission to join this group but after joining it you'll be able to access plenty of beautiful functional and decorative stickers created by this very talented lady. You'll also be able to see planner layouts by other ladies.
This is another website filled with cute and amazing stickers. You'll also find many recipes and DIY on this website.
This is a wordpress blog, where very creative Natalie has put together some amazing designs.
This is another source of getting free printables. This lady offers many free printables and she also has an ETSY shop.
This is a great source to get functional stickers, checklists, flags and planner inserts
This is another facebook group that is run by a very talented lady along with her wordpress blog.
Another place that offers free printables but just for Happy Planner.
11. ThreeCheers.Co
Another site with beautiful graphics.
12. PlannerPickett
A blog filled with free for personal goodies for you.
13. Plan with Samia
This lady provided a few free printables and she also runs her ETSY shop.
14. Plannersquad
15.  Free Printables by Planner Lovers (Facebook Group) -This group was first affiliated with cutedaisy.com but now many people share their printables in this facebook group. You need permission from an admin to join it.
16. Free Planner Printables for All (Facebook Group) – A wonderful group where many talented ladies share their stickers which are free for personal use.
17. Friends with FREE printables (Facebook Group) – A facebook group with planner kits and studio 3 and pDF files.
18. LuckyCharms  – A weebly blog with adorable things that you can print.
19. Planner Haven (Facebook Group)– A closed group filled with amazing talent.
20. Thrifty Planners (Facebook Group) – A group filled with tips and techniques to keep your planner decoration cost effective.
I hope you have liked this compilation of website. Please feel free to recommend any other free resource.