It is time for some winter fun so I have made some free printable winter Games, Activities and Puzzles for you. These fun activities can be enjoyed by both kids and parents. These game worksheets has fun and easy challenges for kids.
Free Printable Winter word search Game
A cute fun and easy winter word search game with winter related words which are easy to find. Hidden words can be find horizontal, vertical, or diagonal.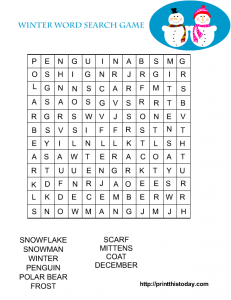 Free printable winter word scramble game
This fun and easy activity is an easy challenge that kids can enjoy. Unscramble the scrambled words and enjoy this challenging fun.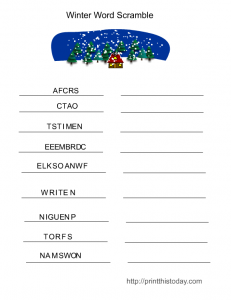 Free printable winter word mining game
See how many words can you make using the words given on these activity templates. This fun activity worksheet is intended to help kids with spelling practice in a fun way.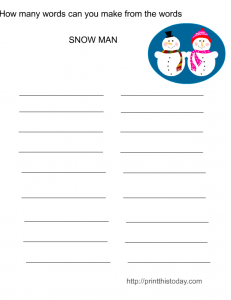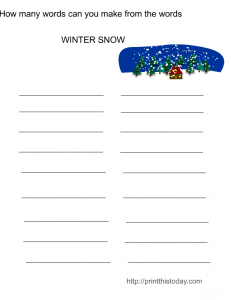 Winter Jigsaw Puzzles
Here are some free printable Jigsaw puzzles with two different snowman and a cup of hot chocolate. Paste the printed image on a card board and cut according to the lines given in grey. These easy to make pictures are suitable even for pre-school kids and I am sure they will enjoy these fun puzzles.
Winter Snowman Jigsaw Puzzle

Snowman and Snow-lady Jigsaw Puzzle Game for Winter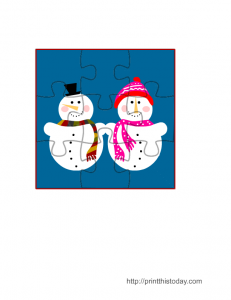 Coffee Mug Jigsaw Puzzle Printable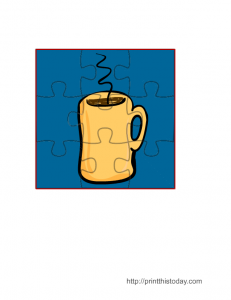 Please follow and like us: