These adorable free printable teddy bear favor tags can be used to decorate baby shower party favors and even on birthday. Most of these cute teddy bears are holding hearts so you can also use these tags as valentine gift tags. Kids will also love these tags so you can decorate kids party favors with these teddy bear themed tags any time of the year. Just print these tags and cut around the edges, you will get 12 tags from each print out. You can tie string, laces or ribbons in the holes of these tags.
Favor Tags with Teddy Bear Holding a Heart
This is a very cute design in which a cute teddy bear is holding a heart in its hands and have lots of small hearts around it.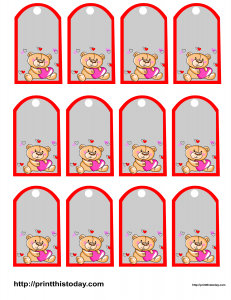 Teddy bear Favor tags for Baby Shower
These tags are not only adorable but they hold a love filled message of I love you.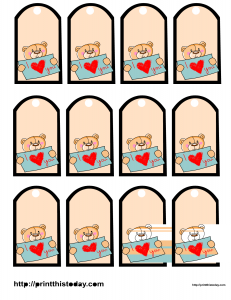 Favor Tags featuring cute Teddy Bear and Balloons
A cute teddy bear is holding lots of heart shaped balloons in its hands and it makes this set of favor tags super cute and special.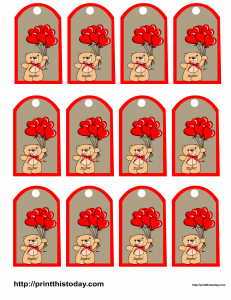 Cute Favor Tags with Teddy Bear holding a Flower
In these adorable favor tags a cute teddy bear is holding flower in its hands. This cute set of favor tags is perfect for boy or girl baby showers.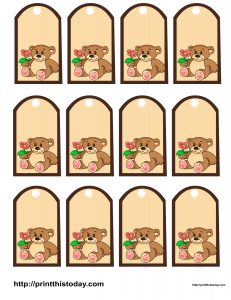 Teddy Bear and Heart Favor tags
This is another adorable favor tags design and I find it more suitable for boy baby shower or birthday party. A cute teddy bear is holding a big heart in its hands.
Cute Favor Tags with Teddy Bear and Hearts
This is my most favorite set of tags and teddy bear is just sitting with lots of hearts around it.