Free printable number 1 Christmas tracer sheet
A cute free printable Christmas Maths worksheet with number 1 tracer. It has one cute Santa Claus that kids can color and number one tracer. The one is written big in size so pre-school kids can trace it easily using crayons. It will be hard to trace it with a pencil. However, to color the Santa they can use pencil colors.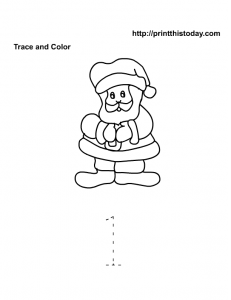 Free printable number two maths tracer worksheet
A cute free printable maths tracer and coloring page with ornaments and number 2. Your pre-school kid can learn to count and write at the same time. The number 2 is written a bit bigger in size so a child can trace it with a thick crayon.
I'll also make more complex tracer and maths worksheets soon.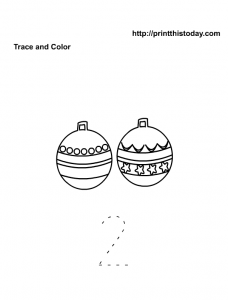 Number three maths tracer sheet with Christmas gift boxes
I have made this series of free printable maths worksheets with Christmas motifs. Here is the worksheet with number 3. I have specially designed these worksheets with bigger tracing numbers in size so kids can easily trace those with crayons.
Make the holidays a fun learning experience for kids by downloading our tracing sheets. This tracer has 3 gift boxes to color and number 3.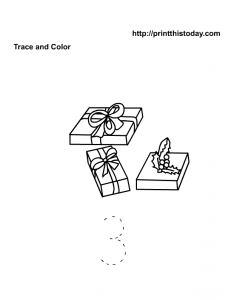 Free Printable Number 4 tracing worksheet
A cute free printable maths tracer worksheet for pre-school kids with 4 cute stockings to color and number four to trace. My daughter loves to write the number 4 and she learned to write numbers quicker than writing alphabets.
I used so many worksheets from the web to teach her counting and writing and finally made a few of my own. Click on the image below to see the bigger-sized worksheet. Print and have learning fun in the holidays.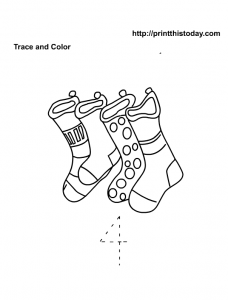 5 Christmas bells Maths worksheet
My little kid loves tracing numbers and I have made this set of free printable Christmas maths worksheets just for her. Now she can write the numbers herself but these sheets are made when she has started to learn to count and tracing that is why this number 5 tracer is big in size so kids can trace it easily with a crayon. Have fun with your kid, teaching him/her number five and coloring these adorable little Christmas bells.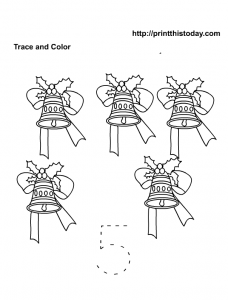 Six Reindeer to color and number 6 Tracing Worksheet
Have Christmas fun and learn to write number 6 at the same time. This free printable maths tracer sheet was made for my daughter but then I planned to share it with all of you. I have written the number 6 a bit large in size so kids can easily trace it using a crayon. There are 6 reindeer that your kid can color using colored pencils and crayons. Search our website for free educational, fun, and craft printables.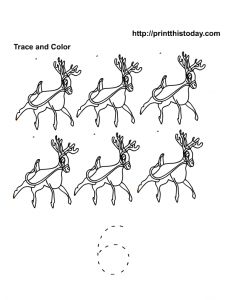 Number 7 tracing worksheet with candles
7 is the first number that my daughter learned to write without dots. After number 1 of course. 🙂 Her teacher teaches it in a fun way by telling her to draw a straight line first and then a slant. I have made this cute free printable number 7 tracer worksheet as a part of my tracer series based on a Christmas theme. Your kid can color 7 adorable candles and trace this number 7 tracer with crayon. Using 7 different colors for candles will also add to the learning fun.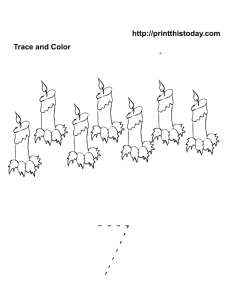 Number 8 free printable maths Worksheet
This is a free printable maths tracer sheet with numbers 8 and eight candy canes to color. Add some learning fun to your Christmas celebrations by using this series of pre-school tracing sheets that I have made. You can also print these and add them to the little goodies bags that you have made for the pre-school kids of your family.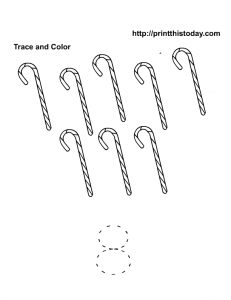 Free printable maths worksheet with number 9
Another free printable maths tracer worksheet for Christmas with numbers 9 and nine adorable bows. Your kid can have fun while tracing the number and adding colors to bows. You can also give him/her nine different colors to be used to color these bows. It is difficult for my child to differentiate between numbers 9 and 6 but hopefully, she'll learn well with practice.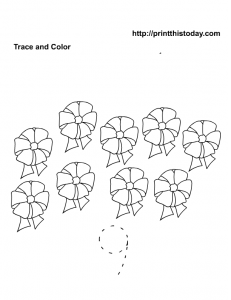 Number 10 Math Worksheet
A free printable Christmas maths worksheet with numbers 10 and ten adorable small Christmas trees to color. Counting and coloring these cute trees will be a fun task for your pre-schooler. I have written the tracer number large in size so your little kid can trace it easily with a crayon. Please help me with your feedback that what kind of maths worksheets are you looking for, so I'll make those accordingly.