Here is the second part of Free Printable Baby Shower Games , the free game templates that I have designed for you to download and print. Games are the heart and soul of a Baby Shower Party and more games you play , more fun you have. I have prepared some very interesting games on some very cute stationery. Have fun. 🙂
Complete the Nursery Rhyme Game
This is a very classic , interesting and fun baby shower game. Take print outs according to the number of guests and give them pens. Ask them to complete the nursery rhymes. Whoever completes all the rhymes correctly wins the game. Click here to download the solution to this game . Click on the image below and save the larger version to print.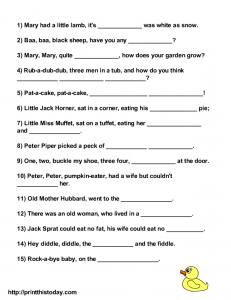 Make a baby related word game
Download this free game printable by clicking the image below and saving the larger version . Print its copies and distribute among your baby shower guests and also give them pens. They have to write name of anything that has something to do with baby and starts with each alphabet.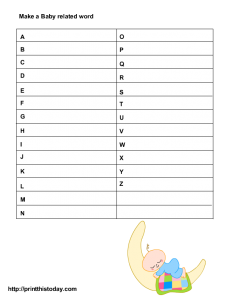 Baby song game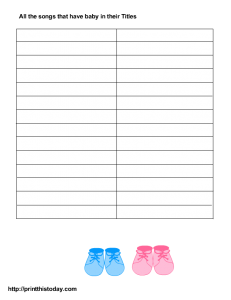 Mom to be memory game
This is another fun game. When your party guests are settled ask the mom to be to make a quick appearance and then move to the other room. Ask the guests to answer the questions on this paper about the Mom-to-be .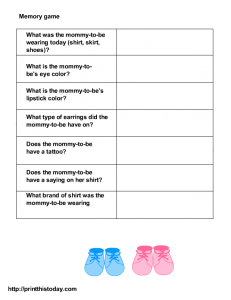 TV Shows Baby Names
This game has names of the TV shows and each baby shower party guest has to write names of the babies in those shows. Click here to download the solution.