A sweet gift for your dad would be if you write a poem or a not showing your appreciation for his hard work using our free printable letter pad and note pad stationery . We are offering some very colorful , unique and stylish designs.
I love you dad template
Download this beautiful and colorful , stationery template free printable . It has a funky message saying I love you dad and it is perfect to write a poem or message for your dad on father's day.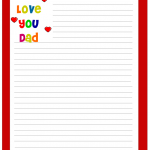 Cartoon stationery
A fun and charming design that is perfect for kids to send a message to their dads . Dad will surely enjoy the charming fun of this stationery design.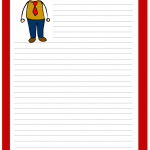 Shirt and tie
An elegant shirt and tie design is something every dad can relate to . He will enjoy reading the note you'll write for him on this letter pad and it will also give his dress sense a compliment.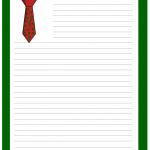 Sports balls
Every dad likes to play some kind of sports or just watching on TV . If he has taught you to play any kind of sports I think this is a perfect design to thank him for his efforts.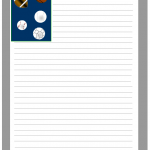 Coffee cup
Write a warm message of appreciation for your dad using this stationery design with a steaming cup of coffee. It will make this father's day memorable for your dad.