Looking for Gift tags to add a chic touch to your Valentine day's gift wrapping ? We are offering cute and unique free printable valentine gift tags for you. These are all purpose tags and could be used as luggage tags as well. You can use a ribbon to tie these tags in necks of Kitchen bottles to label the ingredient. Decorate these further with ribbons and beads and use these in your craft projects.
A Sweet Valentine Day free printable tag
This is a cute and free gift tag printable that you can view in full size by clicking the image below. It has cute pink heart shaped ice cream scoops with a red heart topping . Tag that gift with a modern and sweet touch.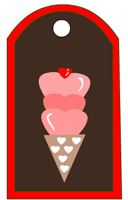 Colorful hearts Gift Tag
A free printable valentine gift tag with three colorful hearts. Red, blue and yellow. Send a Rainbow of love with the gift you are giving to your loved one this Valentine's Day.