It is always a tough task to keep kids busy in some healthy, fun, and learning activity during the long summer holidays. To help you get over this problem, I have prepared some cool and fun Free Printable Summer Games, Puzzles, and Activity worksheets that you can download and print easily. These learning games will challenge the minds of little kids and help them increase their learning capacity.
Summer Crossword Puzzle Game Free Printable
Here are Summer Crosswords that I have prepared in two ways. One is using pictures of different Summer related objects and the other is a regular Crossword game using words.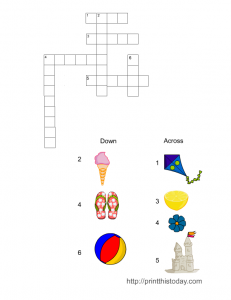 Click here to download the same crossword puzzle in regular style and without pictures.
Summer Word Mining Games
This game is good to help kids with learning spellings. I have prepared two different games. This makes words activity can be played in a fun way. Print as many sheets as the number of players and distribute them among them. Allocate a time, like 10 minutes, and the one who will make the most words during that time will win the game.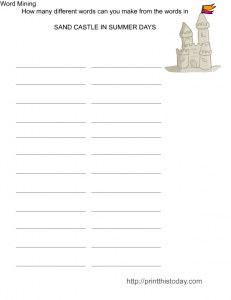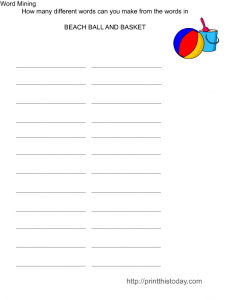 Free Printable Summer Word Search Game
Word Search is an ever-green game. I remember that when I was a kid, my father used to play word search games printed in News Papers with us. This is an easier version of that game, keeping kids from grade, 1,2 in mind. You and your kid can enjoy seeking Summer related words in this very interesting game.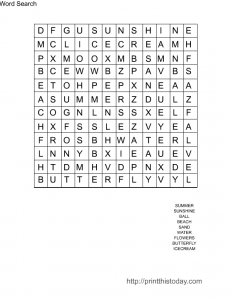 Summer Jigsaw Puzzle Templates
These are some very adorable summer-related nine pieces Jigsaw Puzzles. You can print and paste these on cardboard paper and then cut along the grey lines to make the puzzles. You can use very sharp scissors or an Exacto knife to cut the cardboard.
The first puzzle shows a Sunny Summer day with a beach chair and Parasol.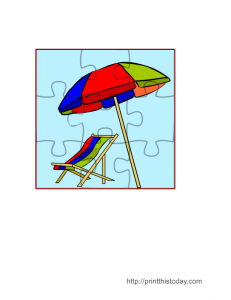 Second template for Summer Jigsaw puzzle with a cute pair of Flip Flops.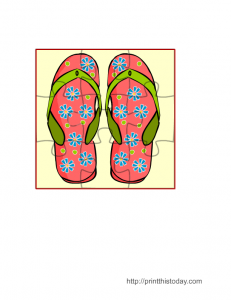 Another jigsaw puzzle printable with the sandcastle, beach ball, and bucket.