Here are some free fun mother's day coupons that you can print and give to your mom as a mother's day gift. These are fun and colorful coupons . Click on the image below and save the free template having four coupons. Print , cut and give as many coupons as you desire to your mom. This will make a fun gift that your mother would love.
A Chore of your Choice
A cute and chic coupon with a light brown background and blue leaves , and once you have given it to your mom , she can ask you to do a chore of her choice any day.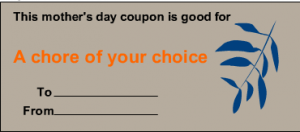 Breakfast in bed
A beautiful coupon with elegant flowers and a promise of providing your mom a breakfast in bed any day.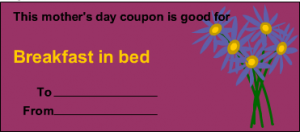 One day or night of babysitting
Your mom works hard and she has a right to relax and enjoy. Print these coupons and you can baby sit your younger siblings free of charge.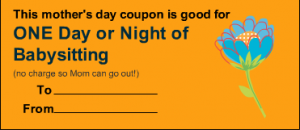 One free dish washing
A beautiful green coupon with flower. Yes you can also do dish washing.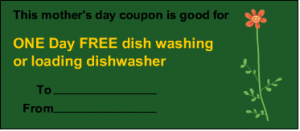 Emptying the Garbage
A classic color scheme and emptying the garbage coupon.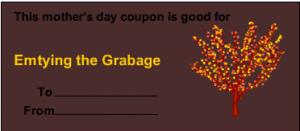 Mowing the lawn or Gardening chores
A bunch of bright red flowers.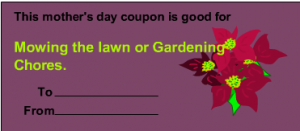 Vaccuming
Give your mom this coupon with a promise of vaccuming. Help her with her house hold work and she'll love this gift on mother's day.