Here is my collection of free printable Easter bookmarks. You can print these on card stock paper and share these with your kids, friends, and family as gifts.
Cute Easter bunny and Egg Bookmarks
This is a very cute bookmark template that will add some magical fun to the Easter celebrations of little ones. Click on the image to get the template with 3 bookmarks. Print, cut, share and enjoy.

Adorable bunny with hearts
I simply love this design with a cute easter bunny with pink hearts around. This cute bookmark will add more fun to this spring festival celebration.

Colorful Happy Easter Egg
This bookmark set is decorated with a colorful floral egg design and a Happy Easter message. This template is absolutely free to download and print.

Easter basket fun
This is another fun and adorable easter bookmark with a basket full of colorful easter eggs. Give it as a gift to your loved one. This beautiful design will give you a unique and charming way to send your best this season.

Cute Easter bunny with daisies
This very elegant and stylish design has a sweet image of an easter bunny rabbit and lots of daisies around.

Colorful Easter eggs bookmarks
This is another cute easter eggs bookmark design with cute green eggs.

Smiling Rabbit
This is a very cute design with a cute and naughty smiling rabbit and two easter eggs.
Easter bookmarks with a cute little chick
A cute little chick hatching from the eggs and so many flowers in the background makes these bookmarks a perfect give-away. You can print these on card stock paper and add a whole set or one bookmark to your Easter gift baskets.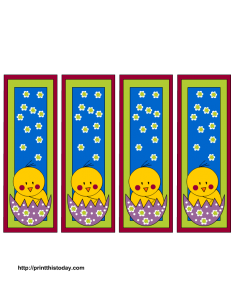 Bookmarks with Easter Eggs
Another set of colorful free printable Easter bookmarks with Easter eggs. These colorful eggs with adorable floral patterns will be loved by everyone.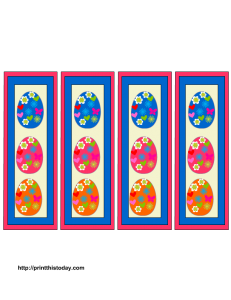 Easter Bookmarks with cute bunny rabbit
This is another set of bookmarks with a cute bunny rabbit that is holding a big Easter egg. Cut the ear part of this bookmark carefully while you are cutting it around the edges.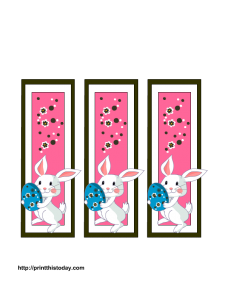 Bookmarks with Easter Eggs
This is a very elegant set of bookmarks that will be loved by every age group. It has this very chic combination of pink and brown.