Here are some cute free Printable Christmas Candy Wrappers that you can use to wrap candies, chocolates, cookies, and any other Christmas party favors that you may like. These wrappers can be used as small gift wraps to wrap small items like earrings, or pendants,s, and chains. You can also use these as scrapbooking paper and decorate your family's Christmas scrapbook in a unique way. You can cut these wrappers in any size that suits your needs. These designs are for personal use only.
Free Printable Christmas Candy Wrappers
This is a very cute Candy Wrappers design with an adorable Santa, a reindeer, snowflakes, and a candy cane. Many cute Christmas-related objects make this wrapper's design fun, cute and unique. It has a white background so it won't use much of the toner's ink.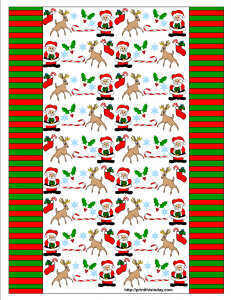 Christmas Candy Wrappers with Gingerbread man, Pie, Hearts, and Christmas Tree
Here is another design for candy wrappers that you can cut in your desired sizes. These wrappers have a cute gingerbread-man, a pie, a heart and a cute Christmas tree. The same pattern is repeated so you may cut this in any size without losing its adorable look.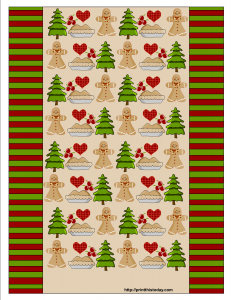 Stockings and Christmas Tree Candy Wrappers
This Candy wrapper design shows colorful stockings and a very cute Christmas tree. These colorful wrappers will be loved by little kids.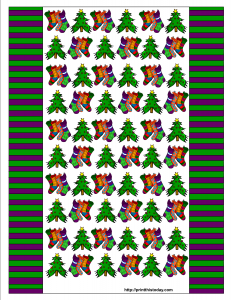 Candy Wrappers with a snowman, Christmas tree, and Christmas Vine
This is a very elegant design for Christmas Candy Wrappers, it shows a cute snowman, a Christmas tree, and a very nice Christmas vine.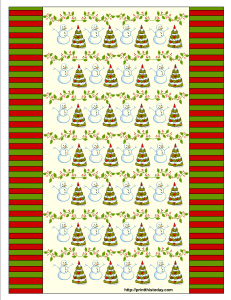 Candy Wrappers with Mistletoe, Christmas gift, and Bell design
These candy wrappers have another design full of Christmas-related objects like a Mistletoe, a Christmas gift box, and a Bell with a bow. This colorful design will be adored by everyone.