This is the third post to help your kid with writing and learning numbers. All of my preschool and kindergarten math worksheets are intended to enhance your child's skills and introduce new concepts in a fun, stress-free manner. On this page you will find different math worksheets with number three. Your kid will learn and practice writing this number with these cute and fun worksheets.
Trace and color number 3
On this sheet kids can have the basic introduction with the shape of number three. They can add color to the number and can also use the tracer to trace it with a crayon.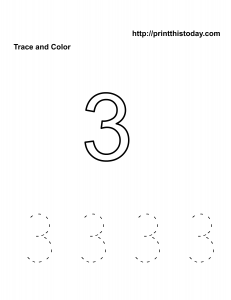 Count, trace and color number 3
They can learn counting up to three by counting these cute little apples and can also trace this number.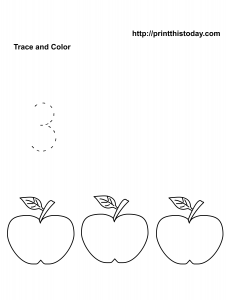 Number three flashcards for Preschool and Kindergarten Kids
Practice counting up to three with these adorable free printable math flashcards. One flash card shows three turtles and other one has three mugs of hot chocolate.