Today I have compiled a list of 5 gorgeous free printable Coffee themed Planner Stickers Sets along with many cute free printable coffee themed freebies that you can use in your planner decoration. It is so true that 'All you need is love and a cup of Coffee'. I cannot add an image from every website due to copyrights restrictions but I have gathered some really cute stickers that you will find below this image.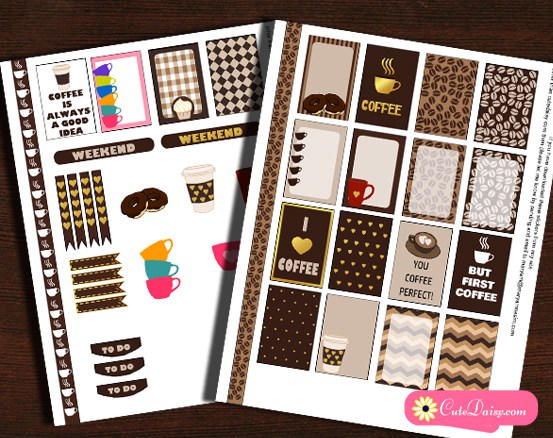 This is a beautiful planner stickers kit by Keturah Design. I am not sure about it's exact size but I love the color combination of these beautiful stickers.
This lady has created beautiful stickers free for personal use.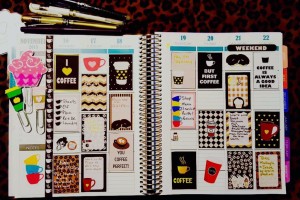 A big planner kit with 20 stickers for planner boxes, two different coffee themed washi tapes, many checklists and beautiful coffee themed stickers for your planner.
Adorable planner stickers in blue and pink color by vintageglamstudio. These are mostly checklists planner boxes and functional stickers.
Another adorable printable planner's stickers set in blue and brown colors.
This is a gorgeous free printable and you can easily create your planner clips with these coffee cups.
I totally love this free printable set of gorgeous Coffee themed labels. These are not exactly made for planner boxes but you can easily adjust these in your planner boxes with the help of a little washi.
4 beautiful coffee themed digital designs by Mein Lila Park will surely help you make your planners adorable.
You can make lovely planner inserts with these adorable printable freebies.
I hope you'd like this compilation of Coffee Stickers. If you have any concern or you want me to add/remove any link then please contact me. Share this post on social media and leave a comment below if you like it. <3