I try to create some new freebies on every weekend so today I created 12 free printable fall washi tapes, or thanksgiving washi tapes and a few stickers that you can use to decorate your planners, journals and in your DIY craft projects.
Please do not forget to read terms of use before using any printable on this site.
These adorable washi tapes are in PNG and PDF formats, if you want to print the PNG format then click on any of the washi tapes set that you like and a bigger image will open up, right click and save that image. If you want to download the PDF format then I have provided the links to PDF files as well.
You can use these washi tapes in your fall themed projects and also in your projects for Thanksgiving. I have made a cute washi tape design with a cute turkey and flowers as well.
Fall themed Washi tapes [Set 1]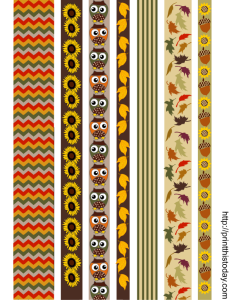 This is a beautiful set with seven free printable fall and thanksgiving themed washi tapes. I have used images of cute owls, falling leaves, sun flowers and acorns. I have also tried to stay within the fall themed color palette.  You can print these tapes on Avery sticker paper or any paper and paste anywhere with the help of a glue stick. To cut these in a fine way, I would suggest that you should use a scale and a paper cutter with a sharp edge. You can download the PDF file of this set here.
Free printable Fall Washi tapes and Stickers [Set 2]
This is the second set of the fall and Thanksgiving themed washi tape designs that I made today . My daughter suggested that I should also provide some free stickers along with these tapes so I made those as well. Here is the PDF version of these tapes.
Links to PDF files
Please share the links to my printables on Pinterest and Facebook. Please abide by the terms of use as it takes a lot of hard work to create these beautiful original graphics.
This is how Sylvia Ocasio Meledez has beautifully used these washi tapes to decorate her planner.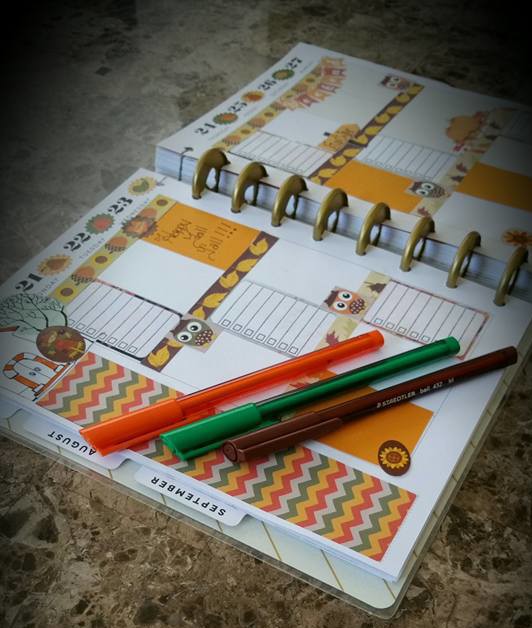 Here is how Kletia Carlson Goodson has used these free printable fall themed washi tapes in her planner.
If you want me to share on my website how creatively you have used any of my free printables, send me a picture. 🙂
Have a good day!