Here are some adorable free printable writing paper designs featuring cute teddy bears that kids will love for sure. My six years old daughter went crazy for this teddy bear that is holding a pink heart. These writing papers will help keeping kids interest in doing writing practice and you can also teach them to write their first letter to grandparents or any special relative on these adorable papers.
Teddy Bear writing Paper for kids
A cute writing paper with a blue border and image of a teddy bear that is holding a heart in its hands.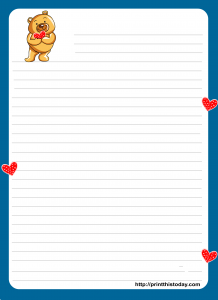 Cute letter pad stationery with Teddy Bear design
This is another cute design with an adorable teddy bear and a few hearts scattered around on this writing paper.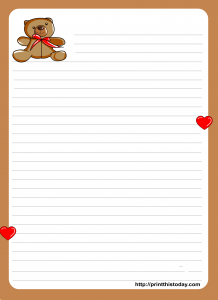 Letter pad stationery design featuring Teddy bear and flower
This cute letter pad stationery is decorated with a design that shows a teddy bear holding a flower in its hands and hearts all around it.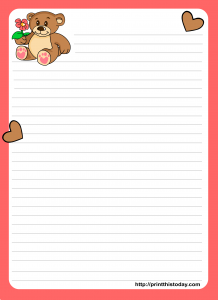 Cute Teddy Bear writing Paper with pink border
This is my daughter's most favorite writing paper stationery design among all these. I hope your kids will also like the designs that I have made and published here for you for free to print.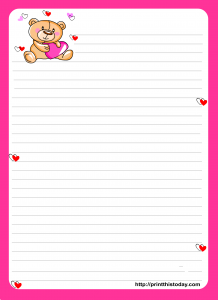 Letter pad stationery design with Teddy bear holding Balloons
In this cute letter pad stationery design a Teddy bear is holding Balloons in its hands and some balloons are made here and there on this writing paper. This paper can also be used on teddy bear themed birthday party. You can print this so that kids can play games on it.