Tell your girlfriend that she is the best girlfriend in the whole world with these adorable free printable love certificates. Girls always want guys to express love for them again and again and these love certificates will make your girlfriend really happy.
Free Printable World's Best Girlfriend Certificate
This is an adorable free printable certificate with the words "World's best girlfriend". You can write name of your girlfriend and your own name to personalize this certificate. It has a cute design of a cute pink heart and splashes of colors on it.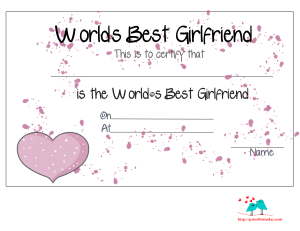 CuteWorld's Best Girlfriend Certificate
This is another design with a cute heart and lovely pink border that surrounds the text.

Elegant love certificate for girlfriend
This is a very elegant love certificate that your girlfriend would love. It has a mosaic like colorful border.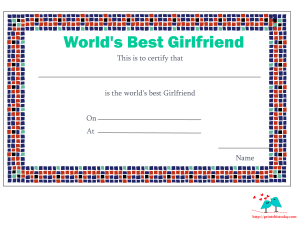 Love certificate printable for girlfriend with hearts
This is another elegant certificate with a cute border and pattern made of hearts.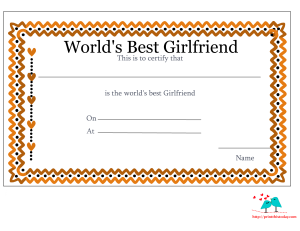 Colorful love certificate for world's best girlfriend
Tell your girlfriend that you love her so much with this adorable certificate with pattern of very colorful hearts.