Here are some free printable favor box templates that you can use if you are packing your wedding favors yourself. You can assemble the boxes and fill these with any kind of favors that you may like for your wedding party guests. You can also tie a beautiful ribbon on these to make these look more elegant. These beautiful and charming free printable favor boxes have a classy, confident sense of style. You can print these designs on heavy card stock paper to make firm boxes to hold your favors.
Elegant blue and brown box
This is a very classy and elegant favor box template in brown and blue color, decorated with wedding flowers and floral patters.You can fill each of the boxes with traditional Jordan almonds, other colorful candies or chocolates.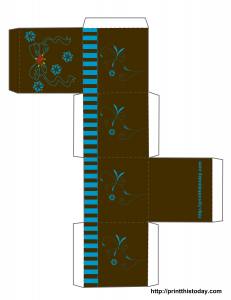 Free Printable Favor Box with Elegant Heart
Add a touch of elegance to your wedding with this favor box. You can tie a beautiful mocha or brown ribbon on these boxes after assembling and filling these with party favors of your choice.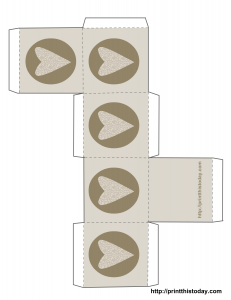 Brown and Blue Favor Box template with love birds and hearts
This is my own personal favorite favor box design with a brown background and adorable blue love birds and hearts on it. Your guests will love these as good things come in fabulous small packages. 🙂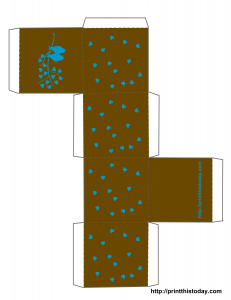 Free Printable Favor box with Colorful Pattern
This fun, funky and colorful box can not only be used at weddings but also on birthdays, baby showers or any occasion.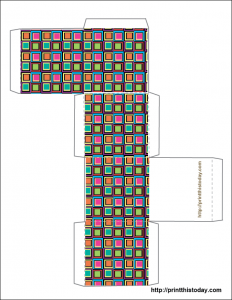 Favor box with elegant pattern
Another free printable template with an elegant design that suits any occasion including weddings.