Love is in the air as Valentine's day is approaching. Celebrate your love in a heartwarming way. In order to help you, we have brought a wide range of free printable Valentine Stationery, Letter pad, and note pad stationery decorated in fun, modern and chic style. Give a little traditional touch to your valentine's celebration by sending a handwritten letter to your sweetheart. Print the given stationery templates given below for free and celebrate love this valentine and throughout the year.
You are so sweet, Free Printable Valentine's Day Writing Paper
Add some sweetness to your love letter by writing it on this cute free "You are so Sweet Valentine Stationery" Pad. It has some cute heart-shaped scoops and a pink border with white hearts makes it perfect to write a sugar-sweet love letter. Click on the thumbnail below to get the bigger image. You can change it using any image editor to suit your print requirements.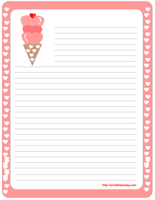 Free Printable Candy Hearts and flowers Letter pad stationery
Love is a sweet emotion that can not be described in words but writing a love letter to your special someone this valentine's day can make him/her feel special. There is a famous saying "There is only one happiness in life — to love and to be loved." So download this cute free valentine letter pad and note pad stationery design printable and make your valentine's celebrations special.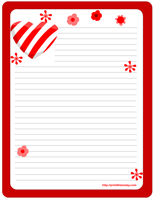 Rainbow hearts free printable Valentine's Stationery
Let your loved one know about the tender feelings you are having in your heart by writing a few words or a poem on this cute free printable valentine's Day stationery template. It has cute and colorful rainbow hearts that give it a modern and chic look. Download for free by clicking the image below and saving the larger version.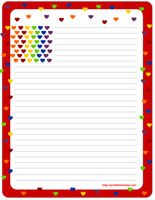 Be Mine and Stationery, Writing Paper
A cute and funky letter pad and note pad stationery design that is absolutely free to print. A funky and cute cartoon holding a heart. You can write your own words and demand your loved one to be yours this valentine's day and forever.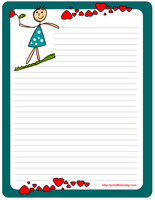 Cute and colorful hearts free valentine's day stationery Printable
Words that come right from the heart work as a love spell. Charm your beloved this valentine's day by sending some enchanting words written on this cute free printable letter pad stationery that we are offering to print for free.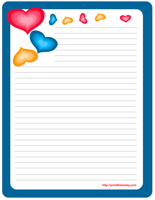 Rose and Polka dots free printable Valentine Stationery
This is a cute free printable stationery with a pink bar and white polka dots. A cute rose makes it a perfect and chic valentine's stationery printable.