If you want to decorate your gifts , or label kitchen jars and bottles in a Valentine's theme , you are most welcome to download these free printable valentine labels templates provided by us. This printables are absolutely free for personal use. These are modern , trendy and unique. You can print these on card stock paper and use these as luggage tags or as freezer labels to tag things stored in plastic jars. These are all purpose labels and using them in the best way is up to your creativity and Imagination.
Rose and Stripes Chic Label
This is a very elegant Free printable label design for Valentine's day. It has a cute pink bar on the left with white polka dots and rose to show your love. Print this for free and tag spice jars and bottles in your kitchens this valentine's day with these elegant labels. These are also perfect to be used as gift tags.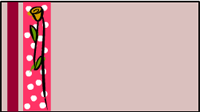 Rainbow hearts free valentine label printable
Red is the color of love and Valentine's day. We have brought this cute , free and RED printable label for you. It has cute colorful hearts and a red background that makes it charming.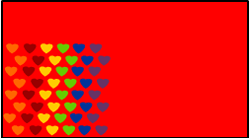 Sweet Ice cream elegant Valentine's Labels
A very elegant and stylish design that depicts love and sweetness. Download this all purpose labels template for free and print.