We have brought seven adorable and cute free printable Candy Wrappers for you this Valentine's Day. You can wrap candies , gums, mints and small goodies in these wrappers this Valentine Day. These can also be used as scrap booking papers. Download for free. Click on the thumbnails below to view and save the larger versions.
Valentine's design with red leaves
Autumn and Winters have ended . This is time to welcome the new spirit of Spring and Love. A meaningful design with tiny pink hearts and red leaves gives it an elegant charm.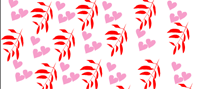 Pink Hearts and Polka Dots
Celebrate this fun and festive day by spreading love and sweetness around. This is an elegant design with polka dots and heart stripes to help wrapping the sweetness of sweets and candies in a package filled with love.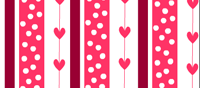 Unique Design (Hearts and Roses)
This is the last design we are offering this year but our personal favorite. Deep red hearts and roses gives this candy wrapper elegance and style. Download this printable for free.