If you are seeking Free printable teddy bear labels to decorate baby shower favors, birthday party favors or just to label books or jars, you will surely love this collection of cute labels that I have brought for you. Each set of labels have a unique design with some cute teddy bear indulged in some love filled activity. You can use these labels for any personal projects you might be working on.
Teddy bear Labels
A cute set of labels with a teddy bear in her garden full of hearts.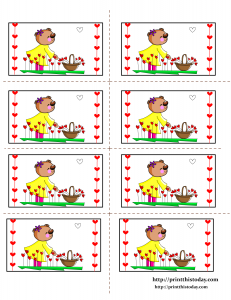 Labels with Teddy bear and Hearts
This is a very cute set of Labels that you can use on any boy or girl baby shower party as these have a neutral peach background and a teddy bear that is perfect for both boy and girl baby shower. This cute teddy bear is holding a heart in it's hands and have many hearts around it.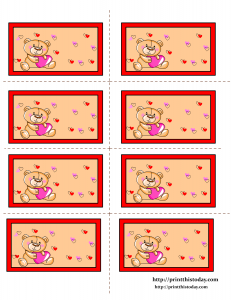 Labels featuring Teddy Bears Couple
This set of labels features a cute Teddy bear couple that is holding pieces of one heart in their hands.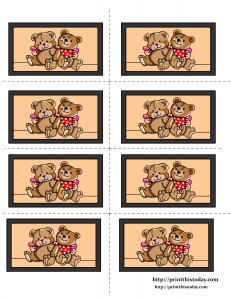 Teddy Bears and Flowers ( Printable Labels)
A lovely set of labels with Teddy bears, heart and flowers.
'Teddy Bear and big big heart' Labels
This is another cute and perfect set of labels for teddy bear themed baby shower party. You can label your party favors easily with these labels. These labels show a teddy bear sitting with a big big heart.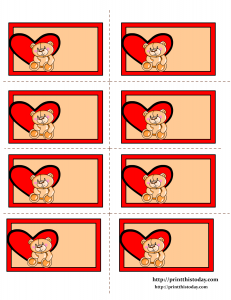 Labels with Teddy Bear Holding a Heart
These labels feature a cute teddy bear that is holding a heart in its hands.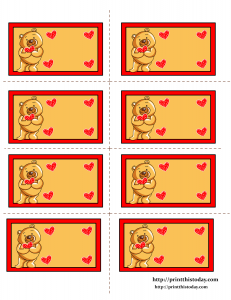 Cute Teddy Bear Printable Labels
These labels have a very nice brown background and a cute teddy bear holding a heart in its hands.
Labels with Teddy Bear and Flower
These labels show an adorable teddy bear holding a flower in its hands.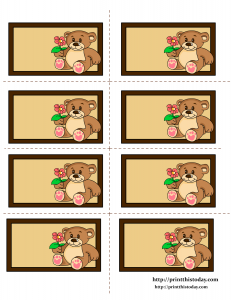 'Teddy Bear and Gift Pack' Labels
This set of labels show a teddy bear that is holding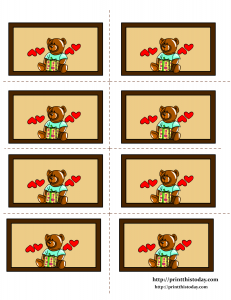 Adorable Teddy Bear Labels