I am mom of a preschool kid myself and facing a real hard time introducing her to numbers and math counting. I have prepared this first set of free printable worksheets with math numbers from 1(one) to 10 (ten) that your kid can enjoy. Click on the image below to get the blow up of these worksheets and coloring activities to print. Your child can lean maths while tracing , counting and coloring these interesting objects of animals, fruits and vegetables. You can also use these as just coloring pages to keep kids busy with a set of crayons and color pencils.
Open these in any paint software and let your kid learn to draw and color on Computer.
Trace and color number 1
An interesting activity for preschool or kindergarten kid. This is a cute coloring page to trace number 1 and a very cute cartoon elephant to color.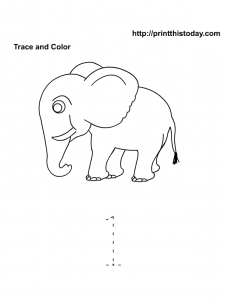 Trace count and color number 2
Two capsicums to count and color and trace number two.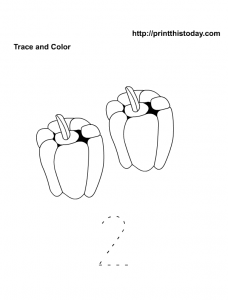 Trace, count and color number 3 Worksheet
This free printable maths worksheet has three cute cartoon animals with big eyes to count and color. A beautifully written number 3 to trace.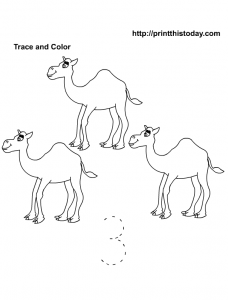 Free printable number 4 worksheet
Four carrots free printable activity for kids. Color the carrots with orange and green and have a yummy fun.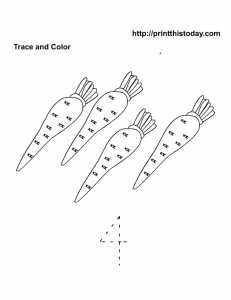 Trace, Color and Count number 5
Five cuddly teddy bears to color and number 5 to trace. Download this free printable template , print and have fun with your child.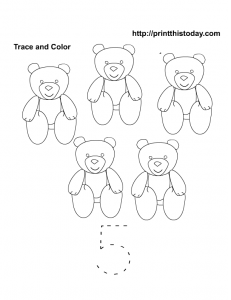 Preschool maths worksheet number 6
You can also use these worksheets in your schools or at home to keep kids busy in healthy and learning activities. Download this template with 6 cute birds and number six to trace.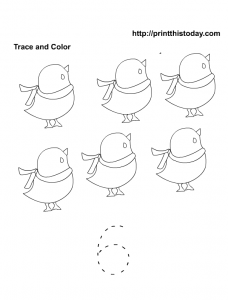 Number 7 Tracing and Coloring
A coloring page with number 7 and 7 candles to count and color.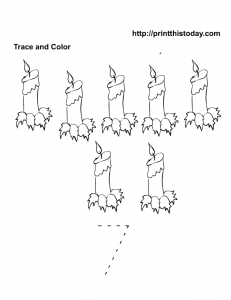 Free printable number 8 trace and color
Eight strawberries free printable coloring worksheet.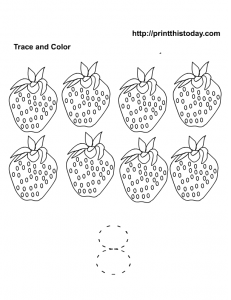 Number 9 trace and count worksheet
Nine cute and cuddly sad cats . Your kid will learn to differentiate between happy and sad faces.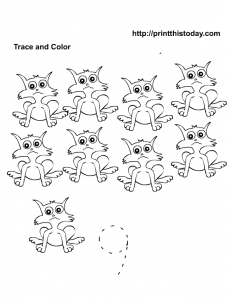 Number 10 Maths worksheet free printable
Count and color ten cute coffee cups and trace number 10. 🙂