Love notes are a great way to express your love and affection for a partner, that is why I have prepared some cute and free printable love notes that you can use in many ways to show that romantic side of yours to your husband or boyfriend. (Note: Men can also use these adorable love notes to make their girlfriend or feel happier 😉
Here are some ideas to use these love notes to surprise your husband/boyfriend. You can leave these notes in his lunch box, wallet, or book that he is reading. You can stick any of these love notes on the bathroom mirror after writing a personalized message on these with pen-like, you are my sunshine. You can leave a love note in his car or in the pocket of his daily wear.
A Cute Love Note Printable with Teddy Bear
This is a cute Love Note printable with a teddy bear holding a little heart. You can use this note to write how you feel about the person. You can tell your sweetheart that you love/him her because they make you smile, or because they have taught you the true meaning of love. Be loud and expressive in showing your love and affection to your dear one.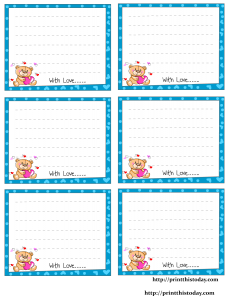 Free Printable Love Notes Stationery with Hug and Kisses
This is an adorable love note stationery printable that shows a cute and romantic teddy bear couple hugging and kissing each other. You can write simple love notes on this paper and use them in any way that I have mentioned above. A hug and some kisses will make them feel warm and loved for sure.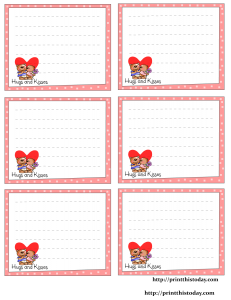 I love you This much, Free Printable Love Notes Stationery
Send a love message to that special someone using this adorable love note stationery printable.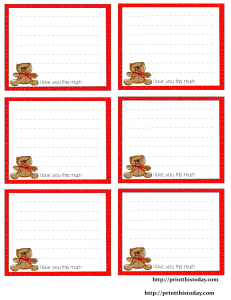 Together Forever Love Note
Another romantic idea of using these love notes can be that you can write a love poem or a short romantic message after printing these love notes that you can grab from here, and put the note in a bottle. You can also fill the bottle with rose petals and other cute stuff. This together forever love note printable will add a cute romantic touch and will be a perfect gift to please someone you love.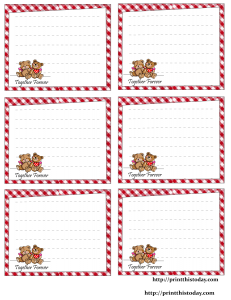 I Love You
All you want to convey to that special someone is that you love him or her and there can be no better words than telling them " I love you". You can also write some true feelings of your heart or some love quotes on this love note after saving and printing it.