On this page you can find some cute free printable Math flashcards which are specially made for preschool and kindergarten kids. These fun and colorful flashcards have adorable pictures to count and numbers written in bold and bright colors. Moms can use this activity to help their kids with learning numbers and counting. Right click on the images below the save the bigger picture. Right click and save that picture in your computer. You can print this on an art card paper or can paste on a card board sheet after printing.
One fish and One gift Box
Two different designs for flashcards, one with fish and other with one big gift box.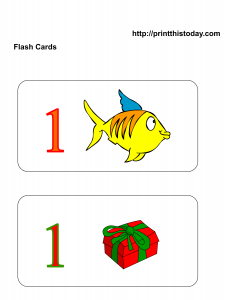 Two birds and Two trees
Adorable math flashcards with number two written in green and cyan, two adorable birds and two cute Christmas trees.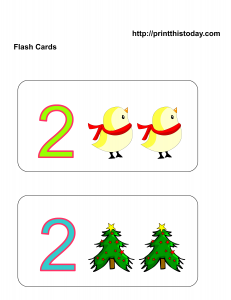 Three turtles and 3 cups
Flashcards with number three cute turtles and 3 cups of hot chocolate.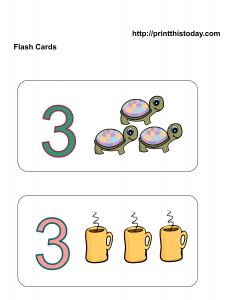 Four Trees and 4 ladybugs
Number four in green and blue, four adorable trees and flash card with four cute ladybugs.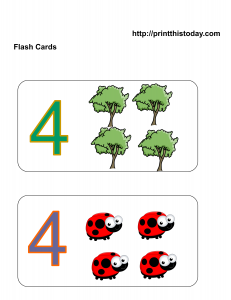 Five honey bees and 5 kittens
Introduce your kid to number five with these cute flash cards. These have five honey bees and 5 kittens to count.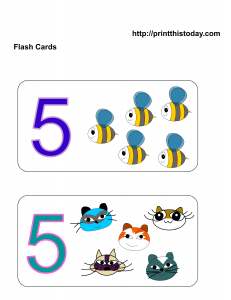 Number Six Flashcards
Cute math flashcards for kindergarten kids with six blushing penguins and six teddy bears.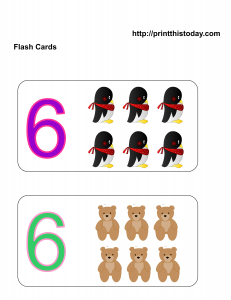 Seven stars and seven smilies
My daughter easily learned to write number 7 and your kid will also enjoy counting with these cute flash cards with seven stars and 7 smilies.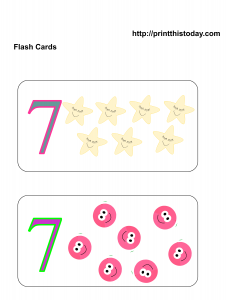 Birds, ducks and number eight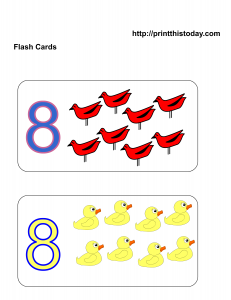 Nine hearts and nine flowers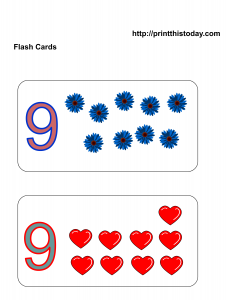 Flash cards with ten autumn leaves and ten spiders