Assemble these cute 4th of July crafts bags by cutting the white area , stick the edges with glue . You can fill these patriotic gift bags with candy and other goodies to create a thoughtful gift for anyone who loves America. Make festive fourth of july party favors . Download these independence day favor and goodies bag templates for free.
Fourth July Goodies bag with teddy bear
This is cute favor bag will be adored by your guests . A perfect thing to treat kids with candies and small items on the day of independence .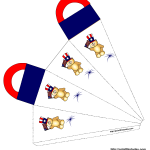 Happy fourth of July gift bag
Show your love for USA to your fourth of July party guests by serving cute small favor items in these little patriotic packages . Let everyone get into festive patriotic spirits.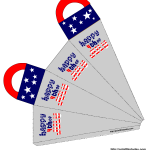 Patriotic Favor bag with American Flag
Kids can help you create this cute favor bag for your independence day party. This craft bag is so easy to assemble and would be an enjoyable activity for kids.