On this page I am sharing free printable bridal shower invitations which are decorated with floral bridal dress. These invitations will go with any theme of bridal shower party and you can easily personalize these.
Click on any of the image that matches your bridal shower party's theme the most and right click and save it to your computer.
Now you can either personalize it before printing or after printing. To add the bride-to-be's name, venue of the party, time and RSVP etc. use the text tool in any image editor and then print the invitation using your home printer, or get it printed from a print shop.
If you want to add these details after getting the invitations printed, then use a felt tipped pen and fill in the details in a very good handwriting.
I have also provided matching address labels with all the invitations and you can write address on those in any of the ways mentioned above.
Free printable bridal shower invitation in pink color
This is an adorable and elegant bridal shower invitation template and you can print it on card stock paper or any other paper that you like, using your home printer.
Lines are given on the invitation where you can fill in the details about venue and time etc.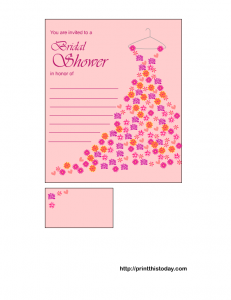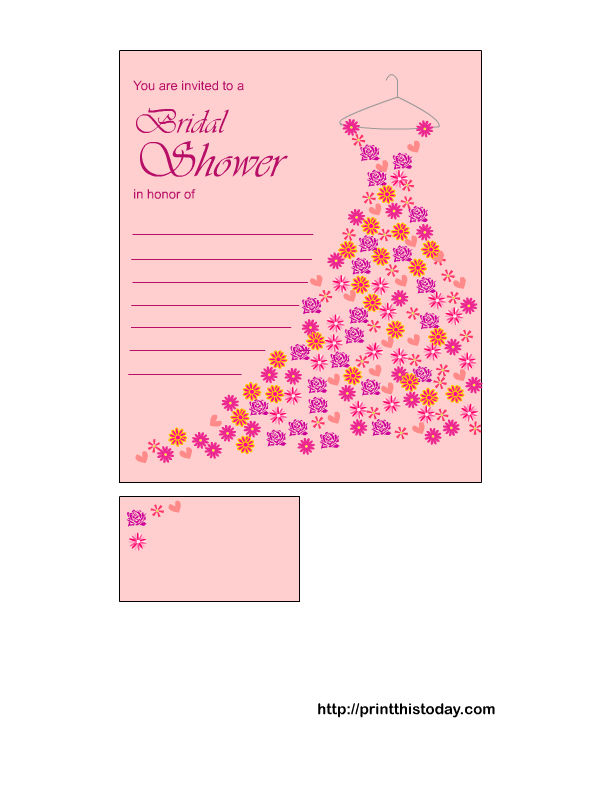 Bridal Dress themed Bridal Shower invitation
This is another color of the same invitation with a matching address label. You can print this invitation if it matches the theme of your bridal shower party more.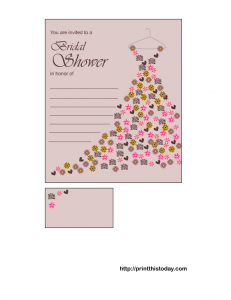 Bridal Shower invitation in lilac color, decorated with floral gown
I love lilac color and I believe that you'll love to print this invitation in lilac color if it matches the theme of your bridal shower party.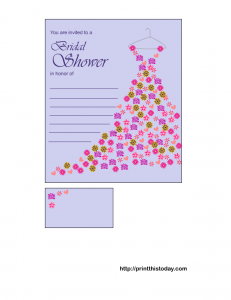 Floral Bridal dress themed invitation in olive color
This is a different color and you can write on it using a silver pen.