If you are hosting a baby Shower party Lady Bug themed baby shower offers a wealth of simple decorating ideas that can look surprisingly elegant or be just plain fun. This cute theme allows you to play with red and you can use ribbons and laces in red for your centerpiece and baby shower party decorations.
To help you more with this idea, I have developed some cute free printable baby shower labels with adorable lady bug. I have used grey to compliment it and added some polka dots in background.
You can use these labels to decorate your baby shower party favors and can make them look more better you can paste sequins, mirror or ribbon pieces on these.
Click on the set of labels below and its larger version will open up. Right click and save it in your computer. Print it and paste these anywhere after cutting around the edges.
Free printable rectangular labels with LadyBug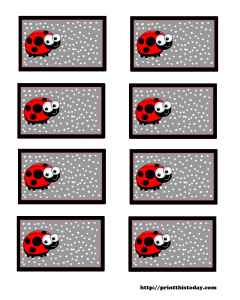 Free baby shower round labels with LadyBug