Here are some free mother's day stationery printables because a gift from your heart means the most. Moms all over the world love to read something written by their children. Send your mom a token of appreciation by using these free printable letter pad and note pad stationery templates. You can also send her some beautiful mother's day poems, writing on these papers with your own hands. Though this is a time of emails I am sure that nothing can beat the beauty and charm of handwritten things so show your mom the love and admiration. You can download these mother's day letter pad and note pad stationery designs for free.
Free Printable Letter pad stationery with Apron and daisies
An adorable letter pad and note pad stationery design with a pink border, an apron, and lots of daisies. You can also note some nice recipes on this paper and present them to your mom as a mother's day gift. Print some templates and compile a small booklet and gift it to your mom so she can use it as kitchen stationery or note pad stationery.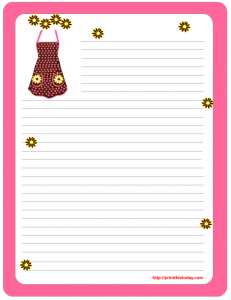 Stationery Printable with flowers and buttons
Any crafty mom would love anything written on this adorable paper with flowers and buttons. It has a cheque cloth-like border. Click on the image below to get the stationery template in a larger size. Right-click and save it on your computers and print it any time you want.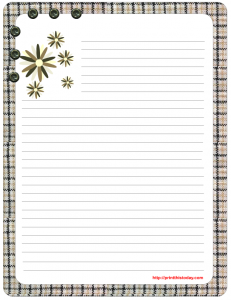 I love you mom, Free Printable Mother's Day Stationery
Sometimes expressing love is needed, so tell your mom how much you love her, this mother's day by writing some personalized note on this adorable free printable stationery template with a heart and lots of flowers.