On this page you can find free printable math worksheets for preschool and kindergarten kids, these sheets are intended to help them with learning number two. Your kid can count, trace and color these sheets and can learn this number in an easy and fun way. Kids learn faster if they are taught with different and fun activities. Number two is always not that easy to learn so all they need to do is practice and practice more. These tracing sheets will help them learning the basic shape and coloring this number will also add more to the learning fun.
Trace and Color Number two
This is a tracing worksheet to learn number 2. Your kid can color the number and can also trace the dotted number with crayon or pencil.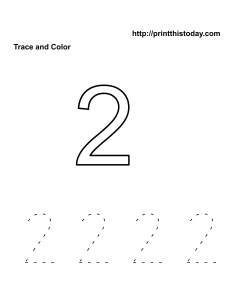 Count, Trace and Color 2
This is another fun worksheet with two strawberries to color and number two tracer. Your kid will learn to count and write with this free fun math worksheet.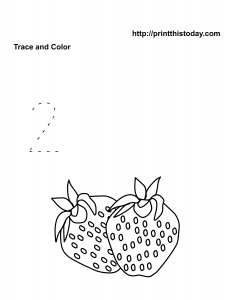 Number two flashcards
Reinforce the counting exercise and shape of number with these colorful flashcards. One flash card has two adorable birds and other one has two beautiful christmas trees.