Number seven is also one of the numbers that my daughter learned to write very quickly. I have made some free printable pre school and kindergarten math worksheets to help you with teaching your child as well. Kids will learn to trace, write, color and count with these easy and fun activities. Always remember that grade levels are not absolutes — especially since we're all living in different countries and therefore have different curriculums. Some kindergarten children will find the Grade One worksheets useful as will some Grade Two students. So it is better that you use your judgement.
Trace and Color number 7
A worksheet intended to help preschool kids in learning number 7. They can trace and color this number and get more familiar with its shape that way.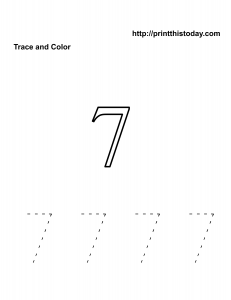 Count, trace and color number seven
An adorable worksheet with seven images of snowman and number 7 tracer.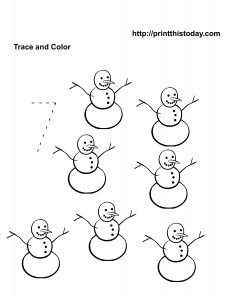 Number seven math flashcards
I have made flashcards for almost all numbers from 1-10 but these are my most favorite ones among all of those. With adorable seven sleeping stars and seven smiling faces in pink color.