On this page you will find some cute and fun free printable math worksheets with number four, made for preschool and kindergarten kids. Kids can learn to write better and finer just by practicing more and more. I have tried to keep these worksheets fun and colorful so your kid can easily learn through these activities.
Trace and Color Number Four
Kids can color the basic shape of this number and can also trace using the number four tracer.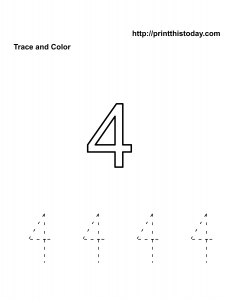 Count, trace and color number 4
They can learn counting up to four by coloring and counting these four eggplants and can also trace number 4 on this worksheet.

Number four flashcards
Help them practice more with counting with these fun and colorful flashcards. One flashcard shows four beautiful trees and other one has four adorable ladybugs.