Here are some adorable romantic cards for Valentine day with different Love quotes.
Cute Card with Love quote for Valentine Day
This is a free printable cute card with this quote
" If a hug represented how much I loved you, I would hold you in my arms forever."
This card is decorated with two adorable cats and a big heart. You can print this card using your home or office printer. You can give this card to your boyfriend, girlfriend, husband or wife.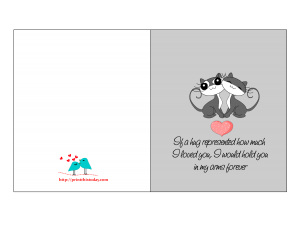 Free Printable Romantic Card with Love Quote
This is another free printable card with two cute birds and a love quote that says
"We were two and had but One heart between us."
Your partner will love to receive it on Valentine's day.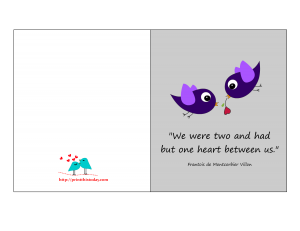 Free Printable Card with a quote about True Love
"True Love never dies, it only gets stronger with time."
This is another cute and colorful card with flowers and leaves.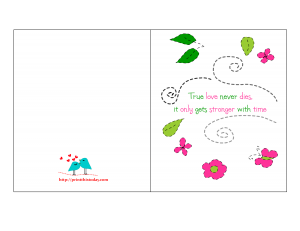 Card with a quote about Love
"Love doesn't make the world go round, it just makes the ride worthwhile."
This beautiful card has this quote about love and a heart with word love written beautifully inside it. This is a perfect card for this Valentine's Day.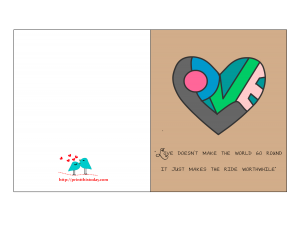 Card with romantic Love Quote
"Just because somebody doesn't love you the way you want them to doesn't mean they don't love you with all they have."
A quote that every person should understand. Give it to your partner to make them happy.