So you want to celebrate your love anniversary or one for your wedding or want to wish some friends on their anniversary? I have created some Free Printable happy anniversary cards that you can print at your home and give it to anyone for anniversary celebrations. Show all the love and care that you have with these cute anniversary card and personalize these by expressing your personal thoughts with a pen after you have gotten these printed. For first anniversary, gift item should be made of paper so I think that these free printable cards that I have made will also be a suitable gift for your first anniversary. You can also check rest of the site to get the ideas for your anniversary gifts.
Free Printable Happy Anniversary Card with Hearts Wine
Click on the image given below to get this adorable Happy Anniversary Card with red whine filled with red hearts. Express your love, affection and care for your partner with this adorable free printable card on your anniversary.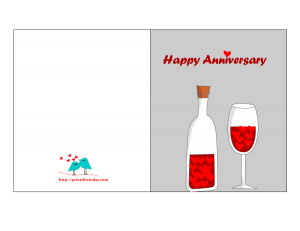 Free Printable Anniversary card with cute Teddy Bear couple
Click on the image to get this adorable anniversary card with a cute teddy bear couple. This card is perfect for him as the cute teddy lady is kissing her partner and he is smiling with joy. Show all your love, care and affection to your boyfriend or husband on your anniversary.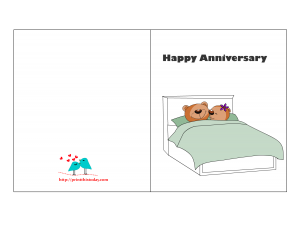 Free Printable Anniversary Card with cute Love Birds
This adorable anniversary card shows two cute love birds in front of their home which is also filled with love. This card will be perfect for your spouse or the person you are living with to show that how your love nest is filled with peace and romance and how much you cherish it on your anniversary.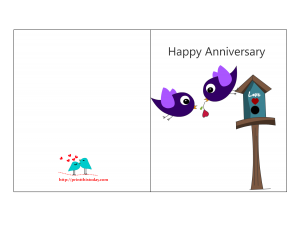 Penguins Happy Anniversary Card Free Printable
They say that emperor penguins always live together once they have chosen a partner so I have made this anniversary card with two adorable penguins and a heart. Tell your partner on your anniversary that you want to spend the rest of your life with him/her through this card.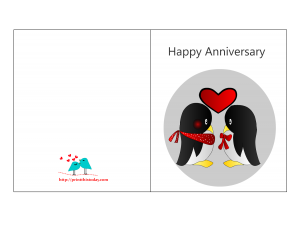 Anniversary Card with cute Teddy Bears
Click on the image below to download this cute anniversary card with teddy bears and daisies around them. This adorable card will be loved by your spouse or partner.