Here is another post with very romantic free printable love coupons that you can give to your partner as a gift and he/she can redeem these coupons any time he/she wants. To see more coupons also visit this page.
Romantic Love coupons for hugs and kisses
Your sweetheart can redeem each of these coupons to get a gift of hugs and kisses from you.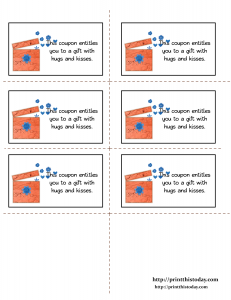 Printable coupons redeemable for a naughty night in bed
Offer a naught bed at night to your boyfriend in form of these coupons that he can redeem any time he wants.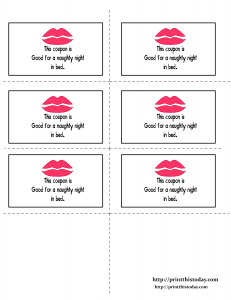 Love coupons for shower
Each of these coupons is good for a shower in which the bearer doesn't have to do anything. 😉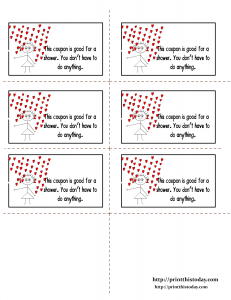 Romantic coupons for an evening of lovemaking
Offer your partner an evening of love making just the way he/she likes it with these romantic coupons.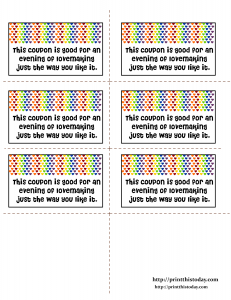 Love coupons redeemable for a movie
Your partner can watch a movie of his/her choice with you against these coupons. So give him/her a chance today.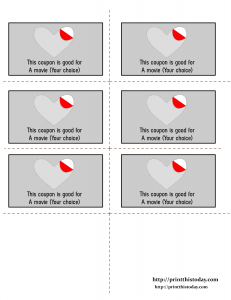 Love slave for a day coupons
Romantic coupons are redeemable to make you love slave for a day.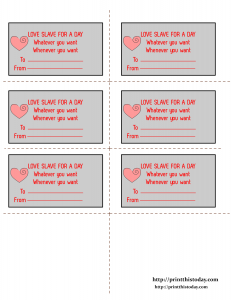 Love coupons for a whole night alone
Is your partner annoyed with your busy schedule? Give him/her a gift in form of these coupons this valentine's day that they can redeem to spend a night alone with you and you'll have to switch off  TV and phone.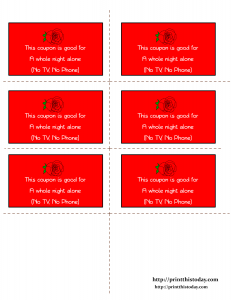 Printable romantic coupons for an evening at the beach
Each of these romantic coupons is good for an evening at the beach followed by dinner.